As with ALL issues of Global Warming and our Dying Oceans...
Time is of the Essence
(If you don't believe this, then watch this Global Warming Primer: Dr. Aldur Fuller's presentation )

California's AB32, The Global Warming Solutions Act of 2006 (Nuñez/Pavley) passed the Legislature on August 31st after the bill's authors, Asm. Fran Pavley and Asm. Speaker Fabian Nuñez, and Senate President Don Perata, announced they had reached an agreement with Gov. Schwarzenegger on the landmark law. In June 2005, Gov. Schwarzenegger issued an executive order that established a target for reducing global warming pollution to 1990 levels by 2020, and 80 percent below 1990 levels by 2050..

DOWNLOAD (PDF) this summary of climate change and clearcutting, this is a text document representation (with pictures, graphs etc.) of this website

Clearcutting is directly linked to global warming through multiple sources of emissions (clearing, earthworks, soil erosion, slash burning, herbicide spraying, cloud formation , etc).

Demand that all levels of state government fight global warming. Demand that CDF halt clearcutting and begin reviewing timber operations with future generations of humans and wildlife as a priority.
Go to the Forest Ethics website and become part of the statewide campaign against SPI's clearcutting.
Join the Battle Creek Alliance and help hold off clearcutting in the Sierra / Cascade Range of California.
Print out our posters on display at the bottom of this page. Post in your hood.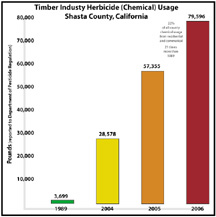 Show this HERBICIDE graph to your local newspaper.
Click on graph for larger version. Click HERE for print version.

Sign on to a resolution to stop clearcutting:
pdf resolution (1.2mb)
jpg resolution (240k)
word document PETITION (for multiple signatures-clubs, organizations etc)

EDUCATE YOURSELF
(see below)
UNDERSTAND YOUR PAPER IMPACT:
There's no doubt that SPI is a company that practices destruction on a much larger scale than any other company, but ultimately, we as consumers have to make changes in how much we use. The fact is that companies will make things as long as we buy them, and will not if we won't. That's our only power.


Paper facts:

Annual Global Deforestation= over 26 million acres
That= 50 acres of forest being cut, every minute of every day
50% of wood cut is made into paper
1 billion pieces of junk mail delivered a year in US (1/3 of all in world)


What you can do TODAY:

Call catalog companies and ask to be taken off their mailing list; Buy 100% recycled paper for your printing needs; Print on both sides of paper; Ask your workplace to use recycled paper; Recycle your waste paper.
---
VIDEO PRESENTATIONS

Here is our VIDEO LEARNING page , with video clips of Experts in forestry, climate change and the relationship between the two. These Presentations were the foundation of the CLEARCUTTING the CLIMATE CONFERENCE hosted by Forest Council

Native American Leader Oren Lyons speaks out on clearcutting

A YouTube 10 minute presentation of "Clearcutting Shasta"
Download our Videos and email to a friend:
PSA (public service announcement: ( 1 ) anti clearcutting on national forest ( 2 ) no trees for gasoline (3) Clearcutting is legal...Why?

Loggers, Millers, Elders: (4) Log Millers against clearcutting (5) Timber Company owner against clearcutting (6) Native American (Pit River) Elder speaks out (7) Witnessing the destruction of wildlife

EROSION: (8) Water Erosion in clearcuts

Visit our video menu for information and video PSA (public service announcement) that you can have aired in rotation at your local television station.

---
Powerpoint Presentation

Download (MAC sitx file) MYTHS AND FACTS: Forests, Carbon and Global Warming by Doug Heiken (13.2mb). Windows file coming soon
---
Important Scientific Determinations:

Scientific Quotes from prestigious sources

Forests and Carbon, an overview

IPCC Summary for Policymakers

Union of Concerned Scientists
http://www.ucsusa.org/global_warming/solutions/recognizing-forests-role-in-climate-change.html

http://www.ucsusa.org/global_warming/solutions/common-sense-on-climate-change-solution-4-protect-threatened-forests.html

NRDC
Nation Resource Defense Council

U.S. Global Assessment Report, published in 2000
Pacific Northwest Overview
Pacific Northwest Key Points

The Stearn Review, commissioned by the United Kingdom, is a complete assessment of climate change. Deforestation excerpts HERE . The full reports can be found HERE .

OTHER REASONS TO STOP CLEARCUTTING
Water Quality
Herbicide Use
Fire Dangers of Clearcutting
Wildlife Destruction
Email these videos to co-workers, friends and associates (and gov servants):
How Do You Like Your Water Filtered?
---
www.signaloflove.org/clearcutting/index.html

ORGANIZATIONS FIGHTING CLEARCUTTING

Forest Council www.forestcouncil.org a great site for climate change and the connection to clearcutting.
Forest Ethics www.forestethics.org
become part of the statewide campaign against SPI's clearcutting.
Read an excellent article about the Forest Ethics and Ebbetts Pass Valentines Day demonstration.
Ebbetts Pass www.forestwatchers.org

Evangelicals join the World Council of Churches in a call to fight Global Warming

Other relationship links: Top Mortgage Lenders PR Agency Best Gaming Headphones Without Microphone